If I was a watch, I'd be a G.Gerlach Orzel 85a.
I'm not saying that because it's the best watch in the world. It isn't. No, this watch has a combination of things that make it very appealing for me personally. It's not special because of the Seiko NH35A inside, which powers a lot of budget automatic watches, many of which are the same or lower price as the Orzel. On the outside The Orzel is not the best designed either, in the sense that it just won't appeal to a large audience (with many people cringing at the sight of the onion bezel). And as for the price value balance. Meh. I own a Phoibos that has MUCH better lume, a date, a great rotating bezel, and at about 80% the price of the Orzel it just feels better made.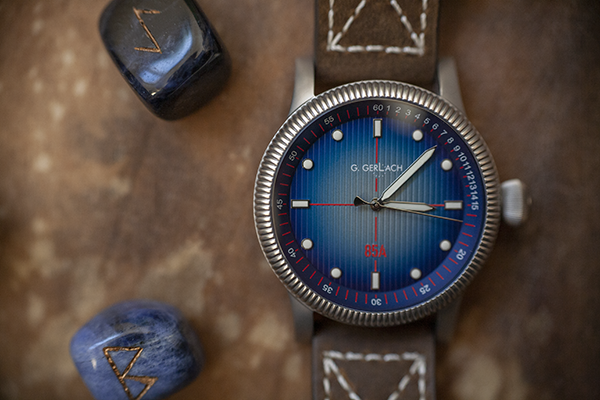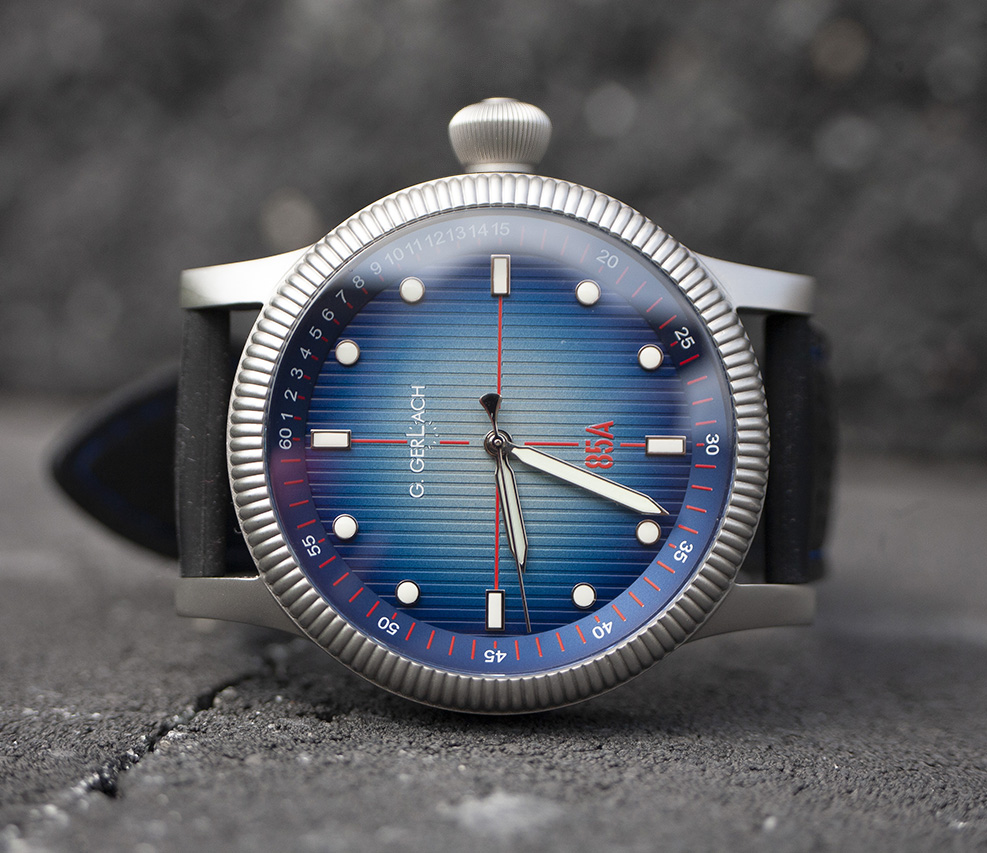 The Orzel isn't even my favorite watch. That title would go to another G.Gerlach timepiece, the P.24. So what's going on here, why do I even like this thing. It all seems a little illogical. And of course it is illogical. Just like buying *any* mechanical watch is illogical in 2019 when we all carry a phone with us that shows time more accurately and conveniently then a wrist watch. Nobody *needs* a mechanical watch. Certainly nobody needs a second or a third mechanical watch. We get one because it connects to us somehow.
For me and the Orzel it starts at the dial, which is blue, my favorite color. And not just any blue, but the kind of blue that gets lighter or darker (richer) depending on how you angle it to the light. The watch is designed in Poland, my country of birth, and the submarine that it pays hommage to was built in the Netherlands where I live now! 85 is my year of birth, and A my favorite letter. It's full name is ORP Orzel 85a and Orph has been my video game nickname for ages. It's an unusual watch, and I like unusual. And while I said the design wasn't the best, it's still very good. It also just matches my style. Put the Blue and metal colored Orzel on a black strap right next to me, wearing blue jeans and a black t-shirt, and you can barely keep us apart.
Ok, so those are all the weird reasons why *I* like it. Is there any reason why you should like it too? Let's go see.
The Good
Orzel 85a specs:
Movement: Seiko NH35A
Crystal: Sapphire
Water Resistence: 200M
Dimensions: 43 x 52 mm
Height: 13 mm
Lug Width: 22mm
My favorite thing about the overal design of the Orzel is the part that you see when just glancing the watch for a moment. The blue is lovely, the dial is *very* legible, everything is well balanced, and the unique onion bezel and giant crown make it look quite special. The size and dimentions are just right, so the watch has lots of wrist presence, without being too bulky. The crown sticks out further then it does on most watches which looks cool, and though I was affraid it might dig into my wrist at first, that happened exactly zero times. I can't think of any other watch other then the Lum Tec Cobat Field X2 (which costs over $900) that has a similarly dramatic onion bezel and crown.
Looking at the watch a second longer, you may notice some less obvious things, like the grooved dial, and the small minute numerals. I particularly like the individually numbered 1 to 15 on the top right edge. Perhaps it's a bit strange to have these there, considering that the bezel doesn't rotate and they don't serve any functional purpose. But from a design perspective, they are a clever addition. There is also the cut-out "ORZEL 85A" writing on the side, and drilled through lugs.
The printed text is well done also. G. Gerlach did well to keep it to a minimum. With so much happening at the edge of the watch, it works really well for the overal visual balance to only have "G. Gerlach" written in the top half, and 85A in the bottom half.
The crystal is double domed, which creates a cool effect when looking at the watch from an extreme angle. To me, it looks as if the numbers on the sloped edge are floating in water. A nice touch for a divers watch visually, though practically a double domed crystal with no distortion would work better.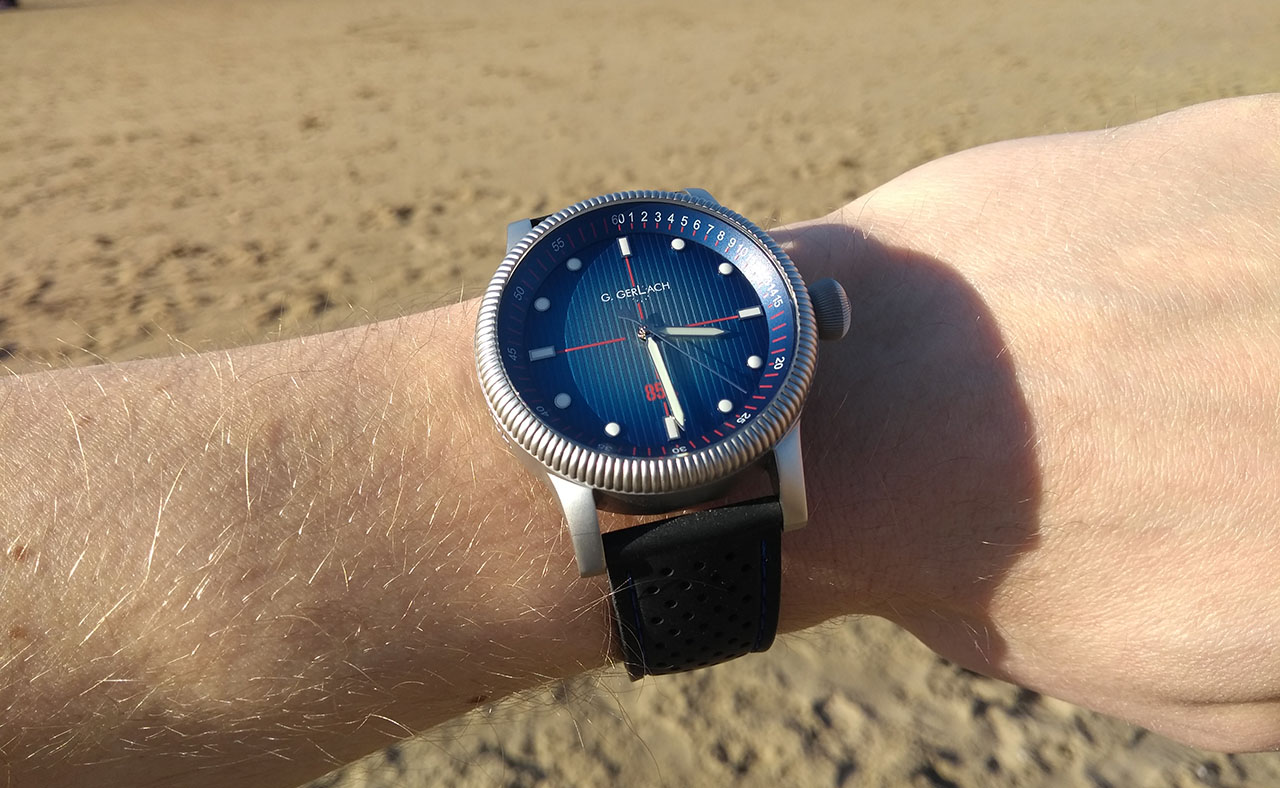 The blue dial is worth discussing seperately. I like the circular gradient from light blue to dark blue, which you see when looking straight at the watch. But I *love* the way that it changes to a deep, dark blue when the watch is viewed at an angle. The grooves in the dial are a well chosen design element, as they fill up an otherwise sterile dial and prevent it from feeling empty.
On the back there is some nice art of the Orzel submarine. Most (all?) G. Gerlach watches have this style of case back, so I can image repeat customers lining their Gerlach watches upsidedown like a coin collection 🙂 .
The hour indexes are polished and catch the light in dim lighting conditions, making it easy to read the time despite of the sub-par lume (more on that later). The seconds hand will completely vanish in mid-dark to dark lighting though, which is too bad. Also, I sometimes find the design of the seconds hand to not be a perfect match to the rest of the watch somehow. It's hard to think of what exactly would improve the design, though if it were up to me, I'd want the seconds hand to be lumed somehow. Also I feel like the hours and minutes hands could be just a little thicker. That would nudge the watch out of the luxury look and feel, and into the rugged diver watch. I'd like the latter a lot more. Personal preference though.

The bad
Pricey
The price is ok, but not great. There are many cheaper dive watches out there with better specs. With the Orzel, you pay extra for the design, the name, and the heritage. These three aspects drive people to purchase many products way above their actual worth, so it's not like G.Gerlach does anything unusual here by marking up the price. But usually, design, brand name, and heritage are synonymous with quality, and that's kind of lacking here.
Wobbly crown
A couple of things have bothered me from the moment I first tried the Orzel on. The crown didn't catch the thread very well and seemed to wobble a bit. This would be anoying on any watch, but it's especially frustrating on the Orzel, because the crown is so big and so much fun to wind. Winding it should have been a treat, not a nuisence. On a sidenote, being so large, I was affraid the crown would dig in to my hand when I'd tilt my hand up, but no, it doesn't. If you have especially flexible wrists, then perhaps this could be an issue though, I guess.
Crap lume
Overal, the lume is very weak. I mean, REALLY weak. I have a 10 euro watch from aliexpress with lume that charges faster, glows brighter, and lasts longer. Worst of all, the lume on the hour hand has a somehow different color that is a shade of more colorful green in light, and weaker green in the dark. I don't understand why the watch came that way, because Gerlach support never bothered to answer my questions about it, no matter how often I asked. If the small 60 to 15 numbers were lumed, at least the design would have made up for the lume quality. Or perhaps if the 85A could have lit up in the dark. But no, it's just the hands and the index circles and rectangles. At best this looks lazy and amateurish when the lume is applied properly (which it wasn't).
Rotor whine and rattle
Lastly, the rotor makes a clanky sound when in motion. Not loud per se, but an unpleasant rattle for sure. It sounds like it's loose in the case and needs to be screwed down better.
None of this says "quality" to me. And speaking of quality, I just can't make up my mind about that rehaut (sloped edge on which the numerals are printed). I like how it padds the dial, compared to a vertical wall that you see more often, but because the dial has grooves, there is a bit of space between it and the edge and that feels a little cheap to me somehow. Almost as if a stock part from any ol' random watch was clicked in, and nevermind the gap. They should have stopped the grooves a hair before the rehaut, and then made the rehaut touch the flat dial.
The ugly what the hell are you doing, G. Gerlach customer service??
The biggest problem with all the imperfections is the G. Gerlach customer service, because they have not been responding to my emails. Any flaw would barely be worth mentioning if I believed it would easily be fixed. In fact, I'd likely be more happy with a watch that arrive in a less then perfect and was then repaired after some great interactions with the company. But that's not the case here. G. Gerlach doesn't have a great reputation for their customer service on forums, and I'm not the first person they leave in the dark or are unwilling to help. I know that this is a thing that can happen for some micro brands, who can't provide a great service because the margins are just not high enough to hire professional personnel. I wish G. Gerlach would have been one of the exceptions.
I was able to reach G. Gerlach support not through email but through Facebook, not that it did me any good. We communicated in English, but there was a clear language barrier and our talks were a bit chaotic. I eventually managed to get a return address and shipped the Orzel all the way back to Poland for repairs. Two weeks later, I received the watch back, with zero work done on it. The crown was still wobbling all over the place, and the hour and minute hand still had different lume. After a few weeks of trying, and chatting to two different people, I still don't know why they just shipped the watch back. I've requested for a crown and watch hands just to be sent to me so that I would have a local watchmaker take a crack at em. At that point though, they had stopped responding to my messages.
Ghost date
And a final nit-pick: The Orzel runs on a Seiko NH35A, which has a date, and since there is no date window, you will feel a ghost position that doesn't do anything when you pull the crown out just one tick. They could have removed this step, or chosen a different movement, but I guess at this point they had already ran out of shits to give.
Wearing the Orzel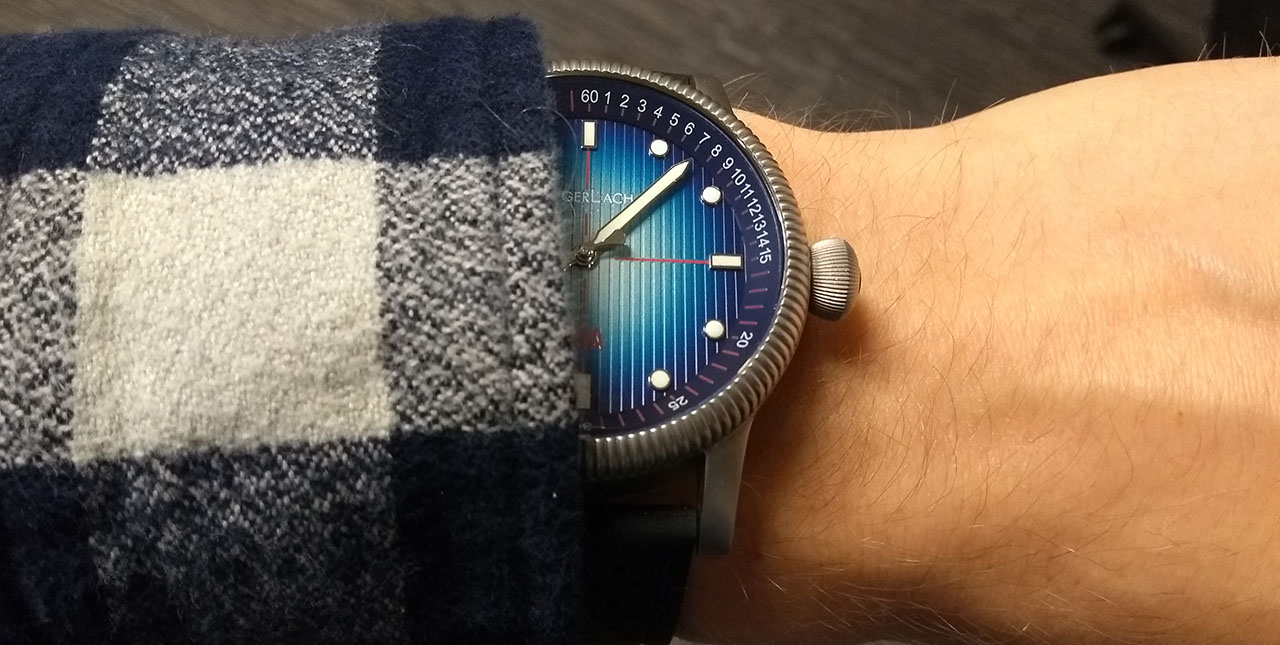 So after all is said and done, how is life like with the Orzel? Well, it's definitely one of the most versitile watches I own. I really like the look of the Orzel in combination to my leather jacket and gloves, and the way it really pops because of the bright blue dial. I also like to wear it with most random hoodies or short sleeve t-shirts. Dress shirts… it depends. It's a bit too big most of the time, and doesn't blend in very well.
Right now, I prefer to wear it on a black rubber strap, rather the brown leather strap it came on. While the G. Gerlach leather strap is quite good, it doesn't quite match the watch, I think. At some point I'd like to get a leather strap with more red tones in it, like perhaps a Colareb Roma Rosso. Also, the strap that came with the Orzel has this giant keeper loop. It's so big it can slide over the buckle and looks like they had a loop left over from a 26mm band or something. And speaking of the strap, I really liked the orange one that they used to pair with the watch, like you can see in the watchitallabout review. Actually, that's the watch I thought I would get 🙁
Final verdict
Great symbolism (if you are Polish)
Good design
Bad quality control
Terrible customer service
In the end, I do like my Orzel. It's good, it's different, it's me. But I also own the P.24 by G. Gerlach, and compared to that model, the Orzel is just good instead of great, and it pains me to admit this. I really wanted this to be the best time piece in my collection. But in comparison to the P.24, the lume sucks. Sorry G. Gerlach, but it just does. The design isn't quite as well done. It's good, but it's not as timeless and versitile. The build quality is lower – at least when comparing the two Gerlach watches I have. And the Orzel more expensive.
As for the customer service… sigh. Knowing what I know now, I wouldn't have baught any watches from them at all. I'm sorry to say that I'd advise people to not buy from G. Gerlach. It's just too risky. There is always a chance that you'll have to interact with customer service, and with G. Gerlach, that can very well be a drama you may want to avoid. And beyond that, like I stated in the beginning of this review, nobody *needs* an automatic watch. We buy these things to feel good. So when customer service people make buyers not feel good, then they kind of remove the whole reason for the purchase.
Second hand though? Go for it.